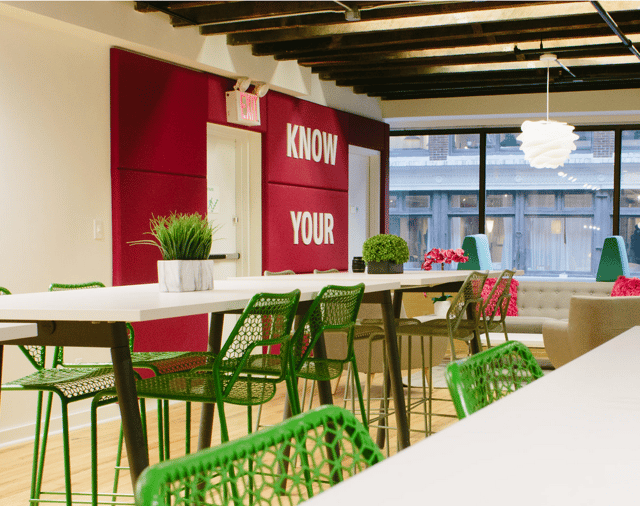 You won't find deadlifts or dumbbells at the Financial Gym but the new concept in Manhattan offers a unique 'exercise regimen' tailored to your budget. Founder Shannon McLay, a former Merrill Lynch financial advisor, opened the Financial Gym's NYC headquarters early last month. Once at the gym, the warm-up begins with a slew of questions: everything from 'How much money do you make?' to 'What kind of credit cards do you use?' and 'Are you married?' The next step is to be assigned a trainer who will work one-on-one to develop a finance fitness plan.

Both the business and space arose from McLay's previous clients wanting a place to be able to talk to someone about the state of their finances. She notes that 'in order to effect positive change in people's lives, they needed not only a human connection, but an environment where they felt comfortable talking about their finances.'

The space — designed to be a home away from home — offers open-air meeting areas and communal tables for mingling, cozy workspaces that can double as private meeting rooms with sliding barn doors, plus a 'Money Bar' complete with alcohol and snacks.

Wanting to model the Financial Gym after a fitness gym membership, McLay kept prices affordable. Advisory plans are $85 a month for a monthly meeting, an on-call financial advisor and a financial fitness plan. She also offers couples and student rates.
McLay's vision for the Financial Gym is to expand it as a chain in cities across the U.S., where people will be able to go to manage their finances, the same way they'd go to the gym to get in shape. "I want people to see the gym and know that they can come in and figure out a real way to sort out their finances," she said.
Full story here.
Photo Credit: The Financial Gym