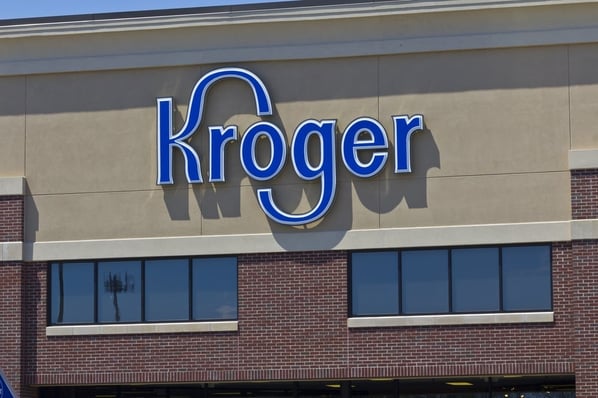 May 10 marked the soft opening of a new kind of convenience store, compliments of Kroger. Fresh Eats MKT in the Columbus, OH suburb of Blacklick represents the first of at least two more scheduled new convenience concept stores opening in central Ohio. Others may expand into existing Turkey Hill banner stores as well.
Fresh Eats MKT, although new in concept and design, is not new in terms of Kroger's portfolio. Kroger's c-stores and small format grocers comprise 784 convenience stores in 18 states and have been operating for years under various banner names like Turkey Hill, Kwik Shop, and Tom Thumb. Jeff Parker, president of Kroger's convenience store division, describes Fresh Eats MKT as a "fresh, new way to shop . . . offering fresh products, friendly service and convenient shopping in a way we've never done before."
What's in stores
While Kroger Marketplace stores opened during the last two years range in size from 100,000 to 130,000 square feet, the Fresh Eats MKT has a footprint of only 12,000 square feet. Inside the new c-store can be found made-to-order food, mobile/online ordering, plus indoor and outdoor dining areas. Although Kroger CFO Mark Schlotman refers to the specialty store as a "small test," Fresh Eats MKT packs a big punch in terms of c-store offerings.
For instance, Fresh Eats includes fresh produce, dairy, meat, and a bakery, but also wine, beer, bulk nuts, drink mixes, and candy. And there's more. NACS reports a drive-thru Kroger pharmacy, Starbucks, two Coke™ Freestyle machines and fuel pumps round out the offering.
How it fits
As retail and grocers continue to seek ways to enhance customer experiences and personalize services to meet changing expectations, Kroger's new concept c-store fits the mold.
In terms of design trends, Fresh Eats MKT's offering of indoor and outdoor dining reflects a growing consumer desire for entertainment in shopping. Juan Romero of design firm api(+) points out at the NRA Show's Foodservice @ Retail Summit in Chicago, "Customers can spend the whole day eating and enjoying [in a supermarket]. There's an entertainment value that's happening in grocery design . . . anywhere from fast casual to elegant to urban." Supermarket News further reports, "Borrowing design elements from the restaurant world is part of the process of creating a destination-dining environment within a supermarket or c-store."
What to expect
While convenience stores have been a staple of American society for decades, the future of c-stores and smaller grocers may soon transform what shoppers have grown to expect from them. Kroger's move to think fresh in terms of produce, meats, and bakery may be signaling an industry trend.
Recent reports from Mintel reveal that 79% of sandwich-buying consumers are willing to pay more for premium sandwiches, and seven out of 10 say they want high-quality sandwiches made with all-natural ingredients. In addition, Technomic reports that nearly nine out of 10 consumers (88%) surveyed in 2016 say they buy hot food items at c-stores, with more than three out of four foodservice consumers (77%) now saying they visit c-stores at least once a week.