New Starbucks openings across the country might not make the front pages of newspapers anymore, but the latest plans for a new location in Chicago will certainly make heads turn. Designed to be the largest Starbucks in the world at 43,000 square feet, The Chicago Reserve Roastery promises to offer a "one-of-a-kind coffee experience," across four stories of interactive space. The monster roastery will take over space currently occupied by Crate & Barrel on the corner of North Michigan Avenue and Erie Street.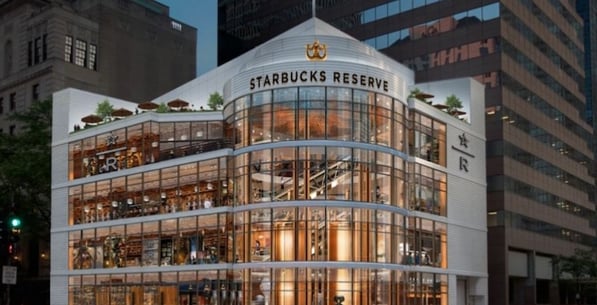 Photo Credit: Starbucks
A glass façade will help illuminate the roastery for Chicago pedestrians and commuters to see all four floors of roasting, brewing, and packaging of Starbucks coffees from around the world. Starbucks Executive Chairman Howard Schultz describes this ideal location on "one of the best-known retail streets in the world," adding, "we can't wait to bring Chicago and the world a coffee experience worthy of their most premier real estate."
Additional features of the Chicago Reserve Roastery include a landscaped rooftop terrace with outdoor seating, and a dedicated baking space for Starbucks pastries and light food choices. Read more here.