From ThrivingMalls.com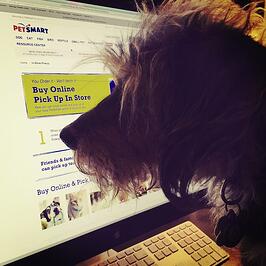 Last summer, PetSmart appointed Phil Bowman as its new executive president of customer experience to improve its omnichannel and personalization capabilities. Bowman, who previously held the position of Chief Marketing Officer at TD Ameritrade, oversaw the redesign of the PetSmart website and mobile site; the revamping of its loyalty program; an increased focus on analytics; and much more. All those efforts have paid off, as PetSmart has recently tied with Amazon in the Temkin Experience Ratings for delivering the best customer experience in the retail industry.
With offers like puppy training classes and grooming and boarding services, PetSmart has always offered pet parents more than great products. In the last year, however, PetSmart has created a comprehensive omnichannel brand that focuses on each customer as individuals.
In March of 2014, PetSmart began to focus on three areas to improve customer service: personalization, expanding products and services, and maintaining loyalty of its most valuable customers. The goal was to link 90% of its sales to individual customers through an increased focus on data.
Then CEO David Lenhardt explained: "We have the data and we know that whether it's in our stores, online or through our customer loyalty program, that personally relevant connections lead to higher levels of customer engagement…We've been investing in new capabilities to help us capture and use customer and pet data, and this year, we will deliver on new methods to use this data to drive growth." Lenhardt led PetSmart through what he called the most comprehensive brand differentiation campaign in PetSmart's history.
Through its PetPerks loyalty program, PetSmart began to provide personalized email offers based on a customer's purchase history. It also added sign up capabilities to the pin pads at registers so people were more likely to sign up when they paid. Additionally, PetSmart armed its store associates with mobile devices to help them find any information a customer may need. The devices allow associates to order products for customers on the spot if the store is out of stock or if something is only sold online.
PetSmart's website redesign included a feature displaying products' in-store availability—the most requested feature by PetSmart customers. They also added the second most requested feature—a buy online and pickup in store option. The redesigned mobile site not only offers customers access to products, but it also provides information on pet care and pet adoption, another way PetSmart takes its customer service to the next level.
It is all of this and more that contributed to PetSmart's ranking as a number one retailer in customer experience. Temkin bases its rankings on a survey of 10,000 customers in the United States. It asks them to evaluate their experiences with certain companies in three realms: success at getting what they want, effort and emotion. A score of 80% or higher is considered excellent, and PetSmart scored an 82%. Not only were PetSmart and Amazon number one in the retail industry, but they were also ranked fourth overall out of 293 companies in 20 industries.
Newly appointed CEO, Michael J. Massey plans to continue the great work PetSmart has been doing in customer experience. He hopes to increase the emotional relationship customers have with the company.
With about 1,400 stores throughout the United States, Canada, and Puerto Rico, PetSmart's customer experience stretches far and wide. It has 202 in-store boarding facilities and even provides vet services in several locations. Through its charity work, PetSmart saves over 400,000 homeless pets every year. Based in Phoenix, PetSmart Charities is among Arizona's largest non-profit organizations.
PetSmart has a unique situation in that the company must make sure to create a positive experience for both its two and four-legged customers. With its many services that allow a pet to accompany its parent on a shopping trip, PetSmart has always worked hard to serve all creatures that come through its doors.
Shopping for food or toys or anything else for your pet becomes less of an errand and more of an adventure when you can bring that pet along, when that pet can simultaneously receive grooming, veterinary and training services. In this respect, PetSmart has been ahead of the game for a while in looking at retail as far more than shopping. Its recent omnichannel and personalization initiatives seem to be the final push it needed to propel itself to the top.
For original article, click here.