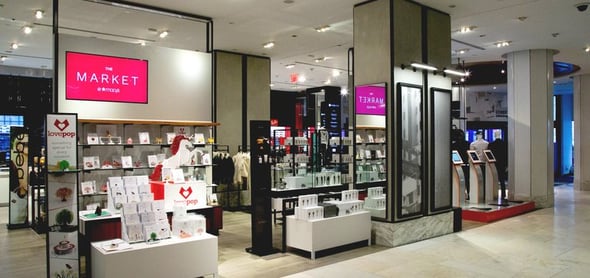 Macy's recently announced plans to launch a new pop-up concept in existing stores in select U.S. cities to introduce prospective brands and broaden its appeal to customers. The Market @ Macy's, referred to on its website as a game-changing collaboration opportunity for independent brands and Macy's stores, will launch this month in 10 U.S. cities including the New York Herald Square flagship, plus Boston, Detroit, Pittsburgh, Ft. Lauderdale, San Antonio, Seattle, San Francisco, Las Vegas, and Los Angeles.
In the past, Macy's has used the store-within-a-store concept to advance its own new lines of product, but The Market @ Macy's represents the retailer's first in-house opportunity for other brands to tap into Macy's customer base while keeping 100% of their sales. Macy's is providing a turnkey solution for brands that includes the space, staff, and the analysis of sales and traffic. In turn, Macy's seeks to help brands test brick-and-mortar retail with a flexible commitment.
Pop-up stores account for $50 billion annually in retail revenue across the industry. Other retailers like Nordstrom as well as initiatives like New York City's Story and Chicago's Pop Box have furthered the popularity of pop-up retail. Macy's expects to expand its own pop-up concept into 49 out of the 50 major U.S. markets. Read more here.