Last week, in partnership with Jordan, Shopify, Darkstore and R/GA, Snapchat pulled off an augmented reality sales stunt for the books. Launched timely during the highly anticipated NBA All-Star 2018 weekend, the image messaging and multimedia app promoted the new Air Jordan III Tinker sneakers, which went on sale exclusively via QR code. The sneaker release sold out in a whopping 23 minutes.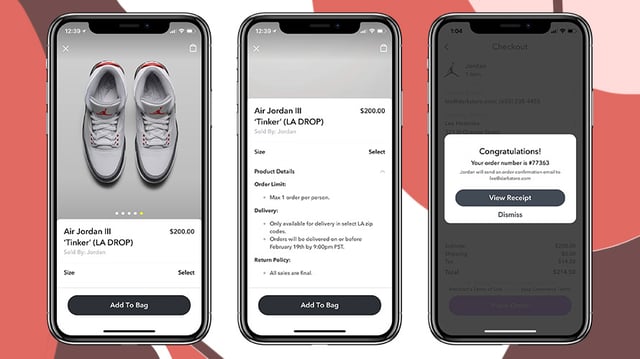 Staples Center attendees utilizing the app's feature received a 3-D world lens of Jordan, a flashback circa 1988 taking place at the slam dunk contest free-throw line. Interactive options also included digitally changing Jordan's uniform to replicate this year's All-Star uniform, and sneakers to replicate the AJ III Tinkers (which are being officially released in March.)
Later, guests of a Jordan brand-specific event received the scannable QR code, allowing digital entry to the Shopify-powered Snapchat store for exclusive sneaker purchase. With the help of Darkstore, a same-day delivery service, customers returned home hours later to their orders awaiting them by doorstep.
"Snap's willingness to prove there is a meaningful, native approach on their platform is both welcomed and exciting," said Justin Marshall, VP of Emerging Platforms at Possible. "It also proves innovation in connected commerce more broadly is still in its infancy, and if brands aren't investing in transforming how media activation and commerce intersect, they will be left behind."
Read more here.
Photo: Snap Inc.