Class Act Sports is a digital media company that spotlights charitable and philanthropic athletes. The twist? It's based in a gym. Located at one of NYC's many luxury fitness chains, Life Time headquarters. The company is at the forefront of constant, interactive energy, with plenty of perks to go around.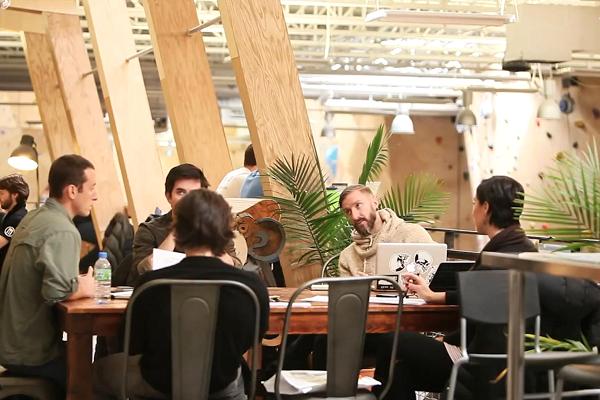 As Americans increasingly continue to work outside of traditional office spaces, and the luxury athleisure and wellness industries continue to flourish, it only made sense for the startup's CEO Jared Ginsberg to marry the ideas. Keeping those elements present at his office space today, a typical day at the Class Act Sports office consists of an early morning workout — free of charge as a company perk — followed by a cafeteria-based meeting, and a poolside client call to boot. "When your gym is connected to your workspace everyone has this energy going," said Chief Marketing Officer "Moose" Haila.
As a whole, the concept also contributes to a new source of revenue for fitness studios during slow times throughout the day, as exemplified by Washington D.C.'s Flow Yoga Center. Similar to Class Act Sports, the yoga studio capitalizes on its vacant hours by offering its extra space as a co-working office, open to community members to reserve via a monthly fee. "You're not in the office grinding it out from 9 to 9. You start the day with meditation, take a mid-day break with a short yoga class. It will fuel you up to do your work in the most efficient way," says Ian Mishalove, Flow Yoga Center's Chief Operating Officer.
Learn more about Class Act Sports and other fitness-focused workplaces here.
Photo credit: CNBC