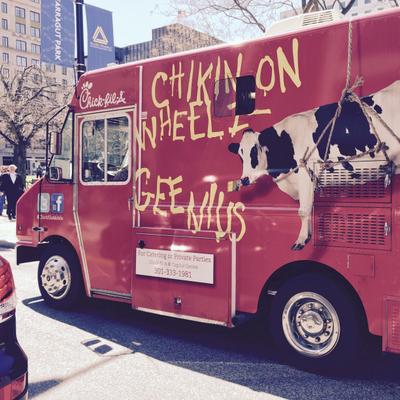 Decades ago, independent food trucks started to randomly appear at office parks and outdoor events as a way to offer limited menu items fast to an already hungry and hyper-localized population. Gooey grilled cheese sandwiches, hamburgers and chips, cupcakes, and ice cream, along with assorted street fare made for the perfect afternoon menu. Today, food trucks are evolving into mobile brick-and-mortar restaurants, offering favorites like a Chick-Fil-A Spicy Chicken Sandwich or an Applebee's Southwest Chicken Salad. You can also follow these food trucks on social media to learn their whereabouts. Chick-Fil-A, in particular, does a great job keeping their Twitter followers up to speed on their location.
Fast Casual reports that 30 to 40 percent of food trucks also have brick-and-mortar locations. Food truck sales have skyrocketed, from roughly $650 million in 2013 to a projected $2.7 billion in 2017, and by number of trucks — from an estimated 30,000 to 40,000 in the U.S., according to Mobile Cuisine.
Moe's Southwest Grill embarked on its food truck journey in New York City. It has since operated trucks in the chain's home city of Atlanta, plus Tampa and Orlando. CEO Bruce Schroder approached the strategy as a rebranding effort to bring freshness, variety, and quality to customers' attention. Trucks bring newer in-store elements to the streets, reports Nation's Restaurant News. Moe's is able to easily experiment or change its menu on the fly before making restaurant-wide changes, thereby lowering its costs in the event a recipe or offering doesn't go over well.
Other familiar names in the restaurant-on-wheels niche include Starbucks, Pizza Hut, White Castle, Nathan's, California Pizza Kitchen, with many others considering the food-truck strategy as a viable expansion option. In fact, 60 percent of fast casual restaurants surveyed by the National Restaurant Association in 2015 said food trucks are a good way to expand the business.
There are many benefits to operating a food truck. One major advantage is the ability to go where people are, yet another is that food trucks can serve as an efficient method of catering. In addition, as food trucks roam about streets and park in highly foot-traffic areas for hours at a time, the restaurant behind the truck gains visibility while increasing brand awareness while ultimately saving advertising dollars.
Whether using mobility for menu testing, catering, advertising, or simply to increase sales, food trucks are worth considering as the highly competitive food market continues to heat up into 2018.
Photo Credit: https://twitter.com/ChickfilaMobile