Earlier this month, 31 coffee roasteries from across the country went head to head — or bean to bean — at Coffee Fest's annual 'America's Best Cold Brew Competition' in Portland, OR. The competition, open to roasters in North America, has been developed to determine and acknowledge the best tasting cold brew and nitro coffee across the U.S. and Canada.
The winner? Reborn Coffee at Regency Centers' Village at La Floresta in Brea, CA, took home top honors and the $1,000 purse. The shop, which opened April 20 of this year, uses what it calls 'overclass cold-brew extraction,' technology to preserve each coffee bean's distinct regional flavor and taste and extract the most desirable notes from each variety.
L to R: Daniel Storll (Reborn Store Manager & Head Barista) / Jinhan Kim (Director of Operations) / Joel Oh (Product Development Manager & Roaster)
Judging was done by Coffee Fest attendees, plus a control group of four blind judges comprised of industry professionals. (The professional judges' votes carried more weight than the attendees.) Competitors' cold brew samples were judged on taste. Judges considered the flavor complexity, balance and aftertaste. Cold brew entries were to be made with only coffee and water — additives or flavoring added during the brewing or distribution process were not allowed.

"Competitors were from various regions of the U.S., some of which are major U.S. coffee roasters, as well as local famous coffee roasteries," said Jinhan Kim, Reborn Coffee's director of operations.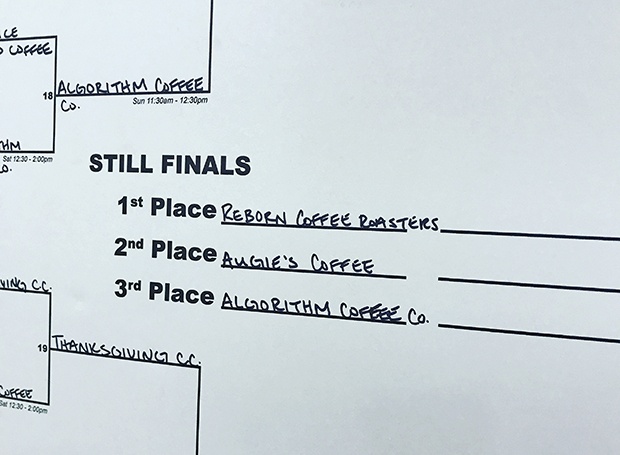 What does he think sets Reborn apart from the rest?
"Innovative quality," said Kim. "Not only do we manage all production steps from green bean to each cup, we also take several innovative steps to make our quality better and healthier. We use nano-clustered water, sprouted green beans, unified moisture levels and custom-profiled cold-brew extractions as all of our exclusive technologies."
He says winning the competition is a "truly memorable milestone" for Reborn. "Years of preparation and dedication from all of our team members has led us to step up for this national level competition and win the title," he added. "This is the beginning."

"Reborn Coffee is a recent addition to our center," said Erin Saltzman, leasing agent for the property. "It is very exciting to see them awarded with this honor. They see a lot of traffic at their shop, and their cold brew is delicious!"