Public art helps infuse our shoppping and lifestyle centers with a unique sense of place, while also creating a vibrant focal point for both shoppers and passersby.
Brooklyn Station on Riverside
The 49,766-square-foot The Fresh Market-anchored Brooklyn Station on Riverside touts three murals by two local artists.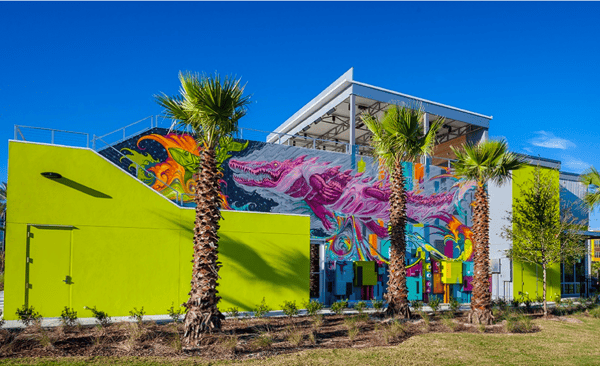 Located near downtown Jacksonville, FL, Brooklyn Station on Riverside's largest mural occupies the north-facing wall of local 'Jax Mex' eatery, Burrito Gallery. Its colorful, abstract depiction of a larger-than-life crocodile-sque creature is paintedin bold purple, lime green, magenta and sky blue hues. Executed by recognized area muralist Shaun Thurston, his Instagram-worthy artwork is as diverse as Burrito Gallery's visitors. A lively rooftop bar is directly overhead so patrons are able to enjoy the art on their way up and down the adjacent stairwell.

Two commissioned black-and-white murals by area artist David Nackashi were added to the center in an effort to create public art that lays the foundation for developing a sense of place for the emerging Brooklyn neighborhood. This is achieved by celebrating Brooklyn's cultural and historical context.
One is on the side of First Watch Daytime Cafe and features an old railcar and its conductors, while the second is on a nearby wall.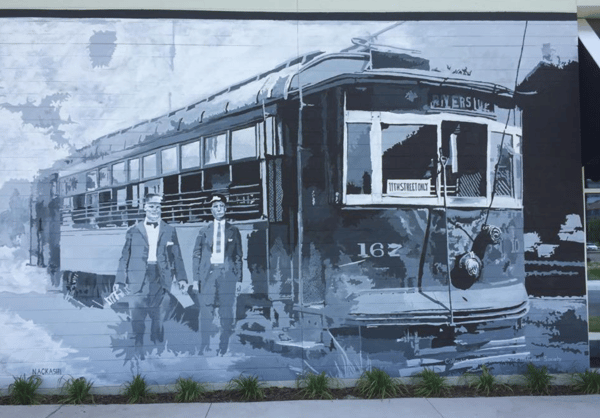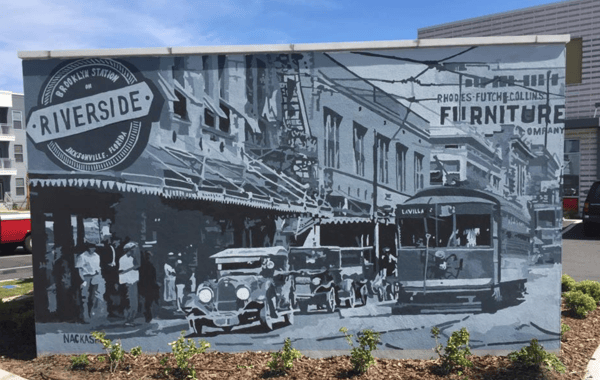 Village at La Floresta
World-renowned muralist Kelsey Montague recently brought one of her signature "wings" murals to Brea, CA's Village at La Floresta, an 86,969 SF center anchored by Whole Foods Market. Center guests eagerly wait to snap a photo in front of the original, colorful 12' x 12' original piece. Popular Montague has been featured in publications including The New York Times, Forbes, and Entertainment Weekly, plus Mashable, MTV and in the LA Times, among others.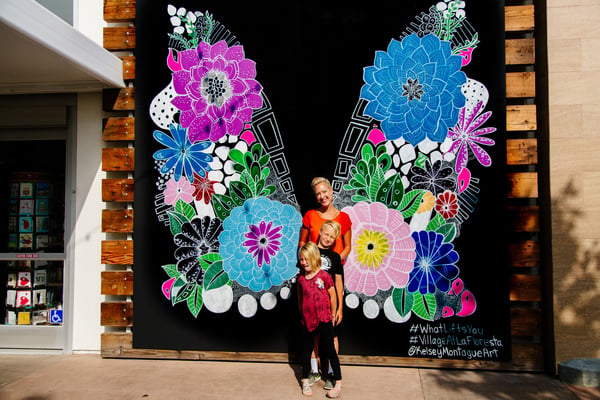 In Montague's words, the murals specifically "invite people into a piece, and then invite people to share their experience online." She is a firm believer that art should not be separated from the human experience. After taking photos in front of her murals, fans across the continent can then easily share their shots by using the Instagram hashtag #whatliftsyou (and for the recent piece, #villageatlafloresta) — which currently has more than 93,000 collected Instagram posts: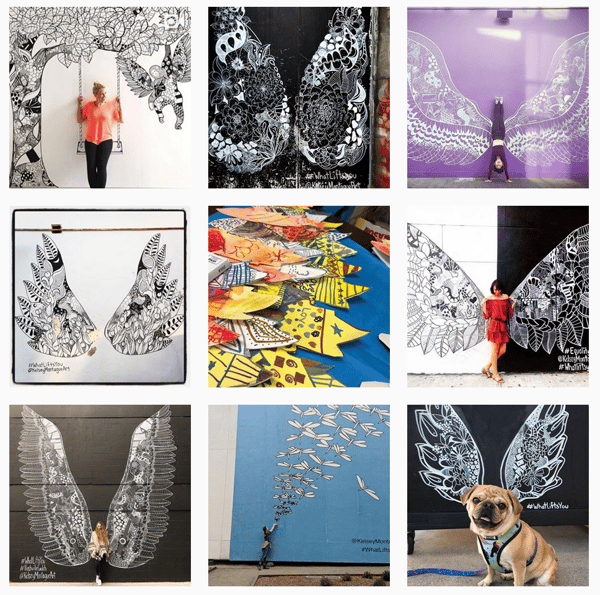 At a center event in October, Montague led a group of childhood cancer survivors in creating their own masterpieces at the site of her first Orange County mural — The Village at La Floresta. She helped the group of two dozen kids in creating their own individual, positive pieces on canvas and also graciously posed with them in front of her recent 'wings' work.
The Hub at Hillcrest Market
In 2014, sunny San Diego's urban The Hub at Hillcrest Market received several murals during its eight-month development process. Local artist Skye Walker created the first in the new mural series — a 35-foot x 15-foot mural on California Coast Credit Union's façade. It colorfully captures the essence of the California coastline with waves, environmental elements and female faces who represent mother nature overseeing it all.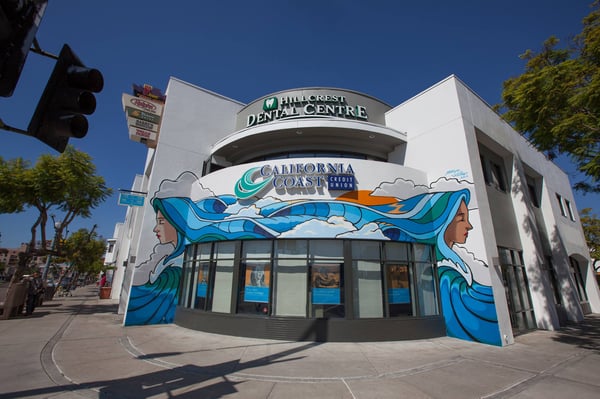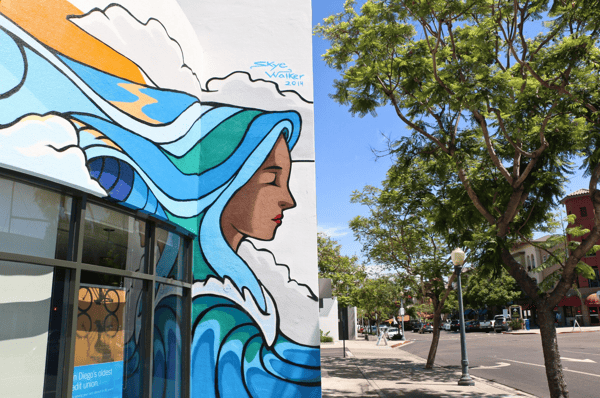 Photo courtesy of artist Skye Walker

Along the western entrance to Ralph's Market's underground parking garage are two parallel walls with bright, rectangular mural by Isaias Crow. Entitled 'Loving Myself,' the abstract, sprawling designs were entirely Crow's concept. According to the artist's website, he writes, "Loving Myself. That's what I wrote and that's what I painted on those two walls. I created a mirror that reflects love to those who enter or exit the parking structure. It is a hub within a hub to reenergize your entire being with self-love." He thanks Regency Centers and The Hub's team for trusting, supporting and inviting him to participate in what he calls an "awesome" project.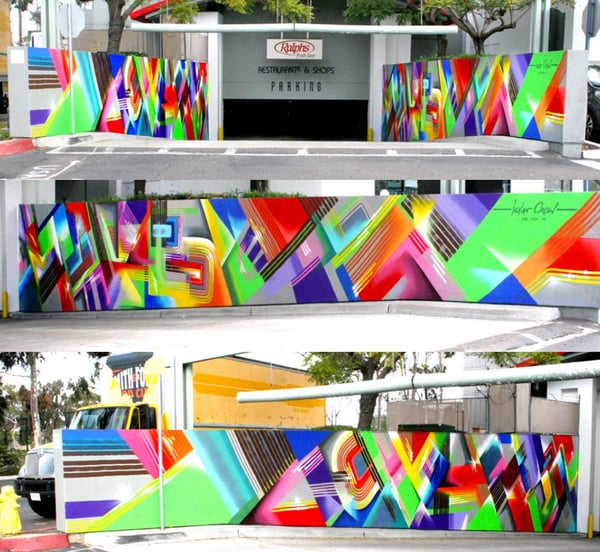 There's also a rectangular piece of three bearded men above the parking garage entrance by San Diego-based artist Mike Maxwell. Self-taught, Maxwell's artwork is focused on themes including humanity, conceptuality, genetics, and consciousness. His work has been featured in publications including Juxtapoz, Color and the San Diego Union-Tribune.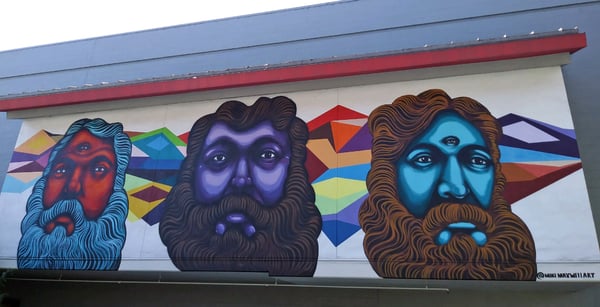 A mandala-like image of colorful geometric shapes by street artist Exist1981 drapes the corner of University Avenue and 10th Avenue on the side of The Unoptical eyewear and sunglass shop. Exist1981 is known for his mural work in San Diego's Little Italy neighborhood.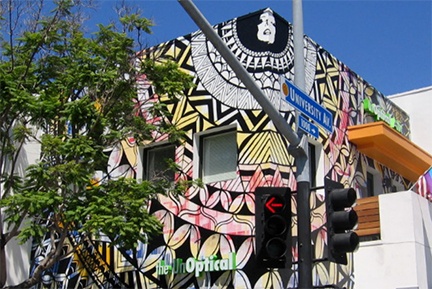 A large abstract piece by Bradford Lynn, a freelance artist, colors a portion of the Hub's parking deck. Lynn graduated from nearby Art Center College of Design.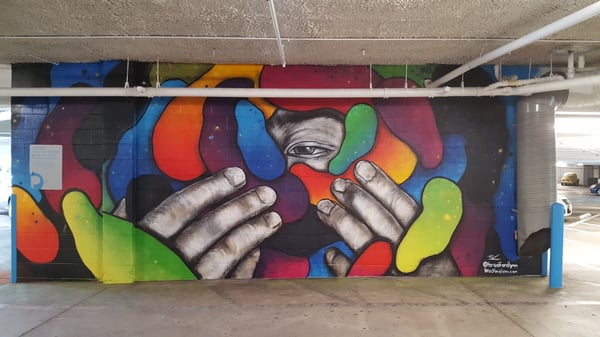 Self-taught San Diego based Chris Konecki created a 'take off // landing' mural on the side of the garage entrance. His work explores social consciousness and elements of nature often collide with harsh urban landscapes and elements of street art and graffiti, which according to his biography, symbolize "the ongoing struggle between the harmonious coexistence of these two monumental forces." He also is credited with San Diego's largest mural — a 9,500 SF piece on a 7-story parking structure.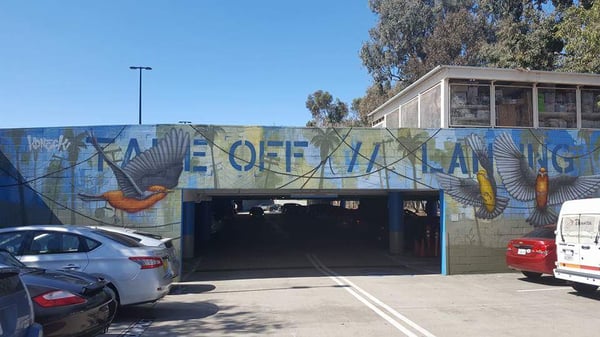 The Field at Commonwealth

The Field at Commonwealth is slated for a June mural installation. The Wegmans-anchored shopping center in Chantilly, VA is currently under development but Regency has approved the mural, and Mellow Mushroom pizzeria will install the art as part of its buildout. Artist MadSteez will create a mural on the northwest corner of Mellow Mushroom. From a mural at Pandora's headquarters to a colorful rendition of Michael Jordan at The Bleacher Report, MadSteez is known for his large, vibrant, multi-layered paintings where strange and familiar figures are integrated into abstract landscapes. Based in Weensville, CA, he grew up less than an hour from Chantilly in Washington, D.C.