Fresh Look® isn't just a philosophy; it's the driving force behind creating ideal locations with best-in-class retailers representative of the communities we serve.
We combine unique placemaking designs with the right merchandising mixes, and connect with our shoppers through community outreach and an active social media presence. These innovative destinations are crafted one at a time by our team. Take a closer look at our most recent Fresh Look success stories in action:
MILKCRAFT
From the enticing scent of made-to-order Hong Kong-style bubble waffles to the loud, top 40 hits blaring overhead to the hip decor and drool-worthy ice cream flavors, it's safe to say that Fairfield, CT hotspot, Milkcraft, is hot.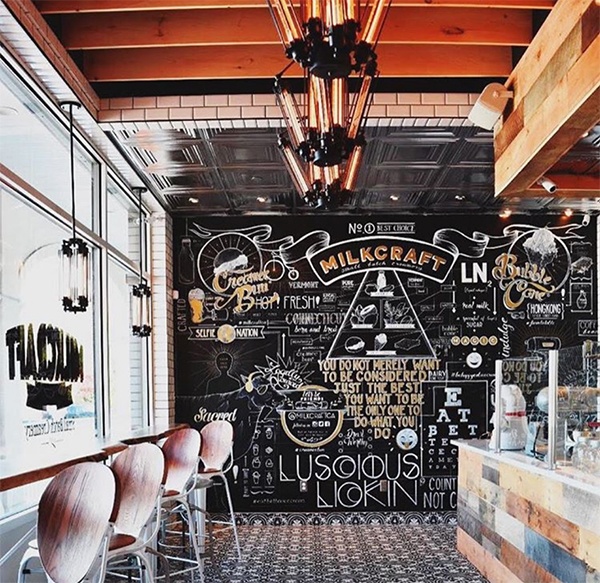 After making your way through the line with other eager patrons, upon setting foot inside the 766 SF space you'll notice Milkcraft's bold design elements. There's an oversized chalkboard emblazoned with hand-lettered motivation, a black-and-white tile floor that contrasts reclaimed wood paneling, plus shiny white subway tile walls and frosted milk bottle light fixtures.
"Milkcraft has done a great job with the space, considering how small it is — it seems to be the direction retailers are headed," said Jack deVilliers, Regency Centers' Vice President of Investments. "They're creating an atmosphere and experience that people want to come to because they can't get it elsewhere."
The small-batch local creamery's secret lies in food-grade liquid nitrogen, which makes tiny ice crystals when freezing, allowing for ultra-creamy ice cream.
Flavors run the gamut from white chocolate candy cane, caramelized PB&J and cookie butter to salted caramel popcorn and Vietnamese coffee. User-generated content — à la bubble cones loaded with creamy frozen goodness and plenty of toppings — floods Milkcraft's Instagram page, garnering hundreds of 'likes.'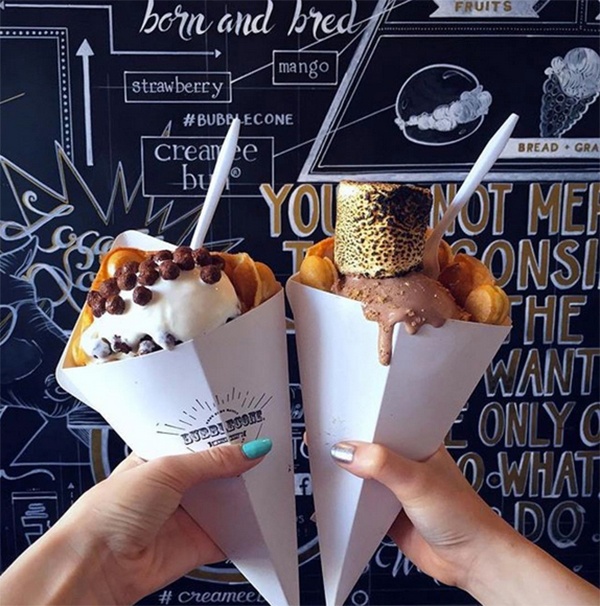 Photo by @_juliakerr_ on Instagram

"Milkcraft does incredible sales volume, and there's always a line out the door — even in the winter," said DeVilliers. "Employees are young and upbeat, and the space has a cool, edgy vibe which keeps people coming back."
The shop, located in Regency's Brick Walk shopping center, is open daily from 11 am until 11 pm. While indoor seating is limited, there's plenty of outside seating — complete with twinkling strands of overhead globe lights.
ELECTROBIKE
Hybrid technology is nothing new, and we are constantly seeing new avenues for electric technology in the markets. Sustainable practices are a big part of corporate brands, not just for environmental purposes but for fiscal ones as well. With that in mind, one retailer is moving this existing technology in new directions and with a considerate business element built in.
ElectroBike, one of the latest additions to Atlanta's Brighten Park, is an electric/manual powered bicycle company that describes itself as "elegance on wheels." The company's "E-bikes" allow the rider to easily switch from traditional pedal-power to electric, enabling the craft to move up to 20 miles per hour. The motors range from 250W to 500W throughout the seven different models, but they aren't just intended for casual use.
"In terms of technology and fitness it was something new and fresh — it was an innovative concept," said Leslie Mintz, Senior Leasing Agent. "The demographic in this area is very active — they seek to be outdoors with the parks and biking trails nearby. Along with the CDC, Emory Hospital and Emory University this area remains very health conscious. The co-tenancy with CorePower Yoga and barre3 seemed to be a perfect match, and I'm very excited to see their continued success at the center."
As a special offer, ElectroBike has developed a corporate package program for entities who value sustainability and health. In addition to providing the bicycles, ElectroBike will customize racks, provide bags, and offer select employee reward programs.
PHO IS FOR LOVERS
If you're craving authentic Vietnamese cuisine in a modern, fast-casual atmosphere, head to Pho is for Lovers. The Dallas-based concept expanded into Richardson, TX's CityLine Market in late 2016, celebrating with giveaways that included a complimentary bottle of cult-favorite Sriracha hot sauce.
The 1,834 SF buildout features clean lines, exposed ceilings and natural wood dining tables. The Vietnamese-inspired décor and entranceway showcase the brand's signature 'pink heart' in a mural-wrap designed by Dallas-mural.com.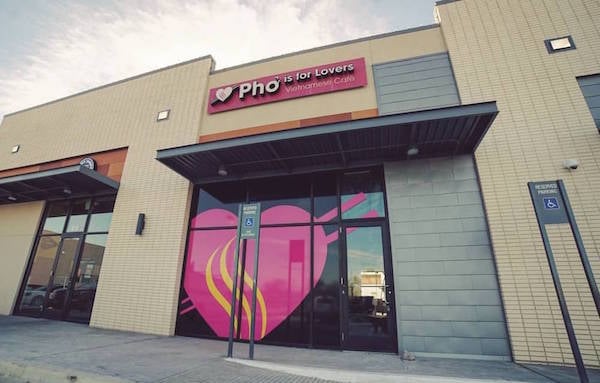 "Pho's design includes a wrap on the back window and door, creating interest," said Liesl Elliott, Senior Regional Property Manager. "There isn't the usual bland 'back of house' elevation facing the parking lot and the developing residential area on the east side of the building.
Open for lunch and dinner seven days a week, the menu offerings include freshly prepared slow-cooked pho soups, bánh mì sandwiches, vermicelli noodles and rice plates and a short list of classic Vietnamese sides and beverages.
"We ate lunch at the restaurant last week and although it was super busy, the service was quick and easy," continued Liesl. "Patrons and surrounding office professionals can walk or catch CityLine's complimentary shuttle and be back in under an hour."
The eatery has been featured in local publications including Richardson Living and the Dallas Culture-Map, and was recently listed in local news CW33's top 5 Places to get your Pho on.


FA LA LA LA LA AT LA FLORESTA
The Village at La Floresta is a ground-up development located in North Orange County's Brea, CA. During the holidays, branded wooden snowflakes and abstract trees were displayed throughout the property, while festive poinsettias decorated the landscaping.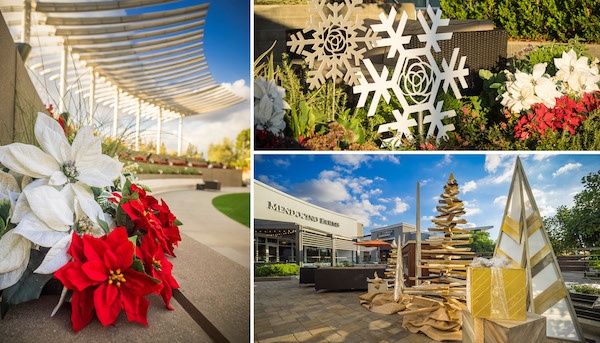 "We worked with a local designer to provide custom holiday decorations at the center," said Jeff Brown, Regency's Sr. Regional Property Manager. "We wanted the holiday décor to accurately reflect the center's architectural details."
The center is designed around a large, central multi-level terraced plaza and amphitheater called The Oasis. In December Regency held a month-long series of holiday events in this space which commemorated the center's first holiday season since opening in April 2016.
Every weekend throughout December, carolers strolled the center singing traditional, contemporary and mixed-cultural holiday songs. On select dates, the amphitheater held free concerts featuring local choirs, music and talent groups. There was also a guest appearance from Santa.
Click here to read full connecting story.

SIMPLE UPDATE A MAJOR CHANGE AT WESLAYAN PLAZA
Often we hear about projects that encompass a wide variety of changes to make a substantial difference for either CAPx or a redevelopment. Westlake Plaza is a famous example that required a myriad of projects for it to gain a new feel, and energy that was just under the surface of the dated center. However, what we don't often hear about are the subtle and slight changes that can make a sizable impact.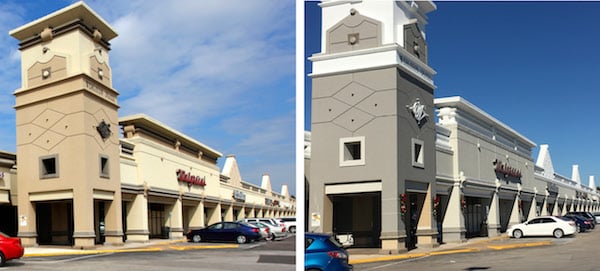 Weslayan Plaza, before and after

Houston's Weslayan Plaza is a great example of making a significant change by addressing a single element. The center, encompassing nearly 355,000 SF of retail, was coated in a tint that Regency's Vice President of Placemaking Doug Pearl described as "swiss coffee tan." This color was identified as being a major contributor to the aged look and feel of a powerful and highly trafficked retail hub in an extremely affluent market.
"Weslayan had an old, tired feel to it that we wanted to be monetarily conscientious about solving," explained Doug Pearl. "We needed to do something that would be fresh, different, and make this place feel new and special to the surrounding area."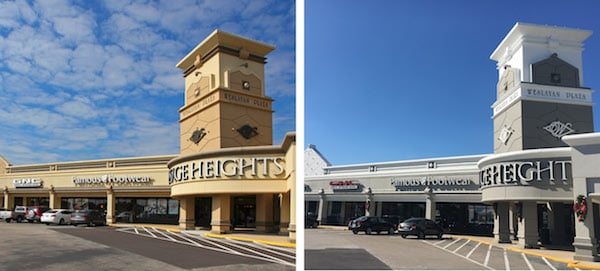 Weslayan Plaza, before and after

The decision was made to paint the entire set of structures to a cleaner and more uniform pigment to accurately reflect the status and feel of the surrounding area. Erik Thompkins, Director of Property Operations, said the change has been met with fantastic feedback from the center's retailers, plus community members who have reached out to express their approval.
"There were a couple of different colors in mock-ups that the community come out and give their opinion on," continued Pearl. "They didn't like the original — a grey blue — so we went with something more classic and simple. We chose a white and a grey three-color design for a few reasons. White would pop and provide a fresh and exciting feeling, while grey is a sophisticated, neutral background color."